Ameego HR Manager is here!
To assist in keeping all of your employee related records centralized, we've added the HR Manager module to your Ameego platform. This will provide you with the tools to record notes based on common HR topics, and associate them to your current employee team profiles in your Ameego online filing cabinet!
Navigation: People tab, then HR Manager
Your can record notes to the following HR topics:
Late

Left before 3 hours

No show

Certification

Vacation

Personal emergency leave

Recognition / Promotion

Other
Here are a few HR note examples: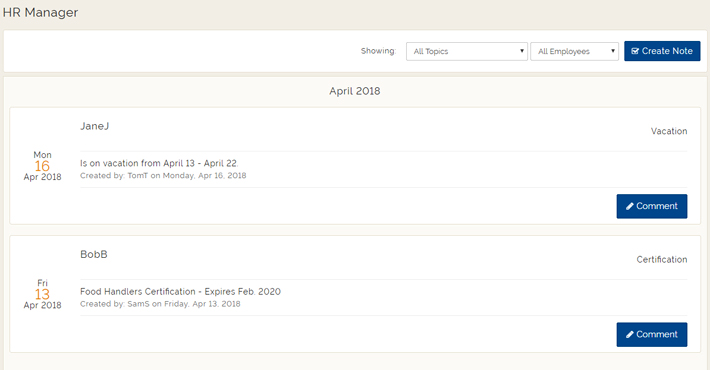 How to create an HR note
Navigate to HR Manager (People Tab > HR Manager).

Click 'Create Note' at the top of the page.

Select the employee the note applies to.

Select one of the HR topics.

Select the date the note pertains to from the calendar provided.

Enter the note details in the box provided.

Click 'Create Note'.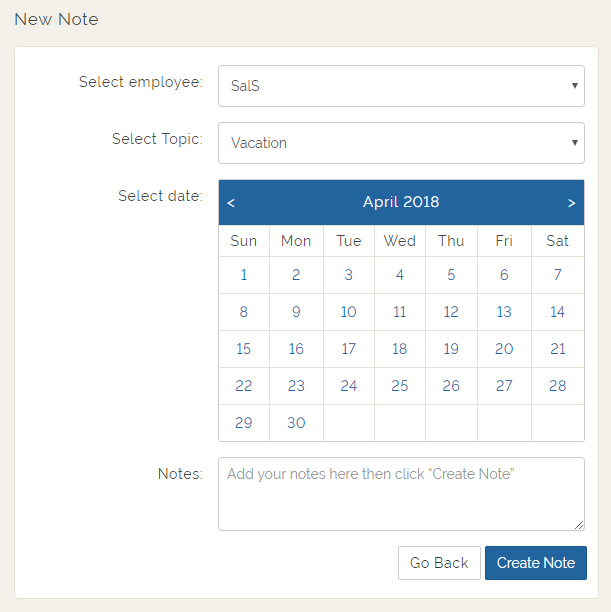 Viewing existing notes, replying to notes, or deleting notes
Upon navigating to the HR manager you will see a listing of the 10 last HR notes. You can click 'Load earlier notes' at the bottom to see more. You can also filter the view using the note topic or employee drop down lists provided.
After a note has been created your management team will have the ability to 'Comment' on it or 'Delete' a note ('Supervisor' security level cannot delete notes).
Filter notes to a selected employee:
Comment on a note:

Delete a note:
The diagram below identifies all the fields seen on an existing note:

Date the note pertains to.

Username of the employee the note pertains to.

HR Topic of the note.

Description of the note, including who created the note and the date created.

Comments made to the note, showing who created the comment and when

'Add Comment' button - click here to add additional details .

'Delete Note' button - click here to delete the note (Manager security level required).
* Deleted notes are only deleted from the list of current notes. They can be accessed by filtering to deleted notes.
Summary
With the help of the Ameego HR Manager and regular data entry from your managers and supervisors, you'll improve record keeping on important topics, and keep them organized in your Ameego platform.