Let's begin organizing our employees. The 'People' section serves as your online filing cabinet and houses all things employee related (contact information, wages, availabilities, etc.) You can edit both department and employee specifics here.
Navigation: People tab > Employee Manager
Goal: Properly edit all department and employee profiles.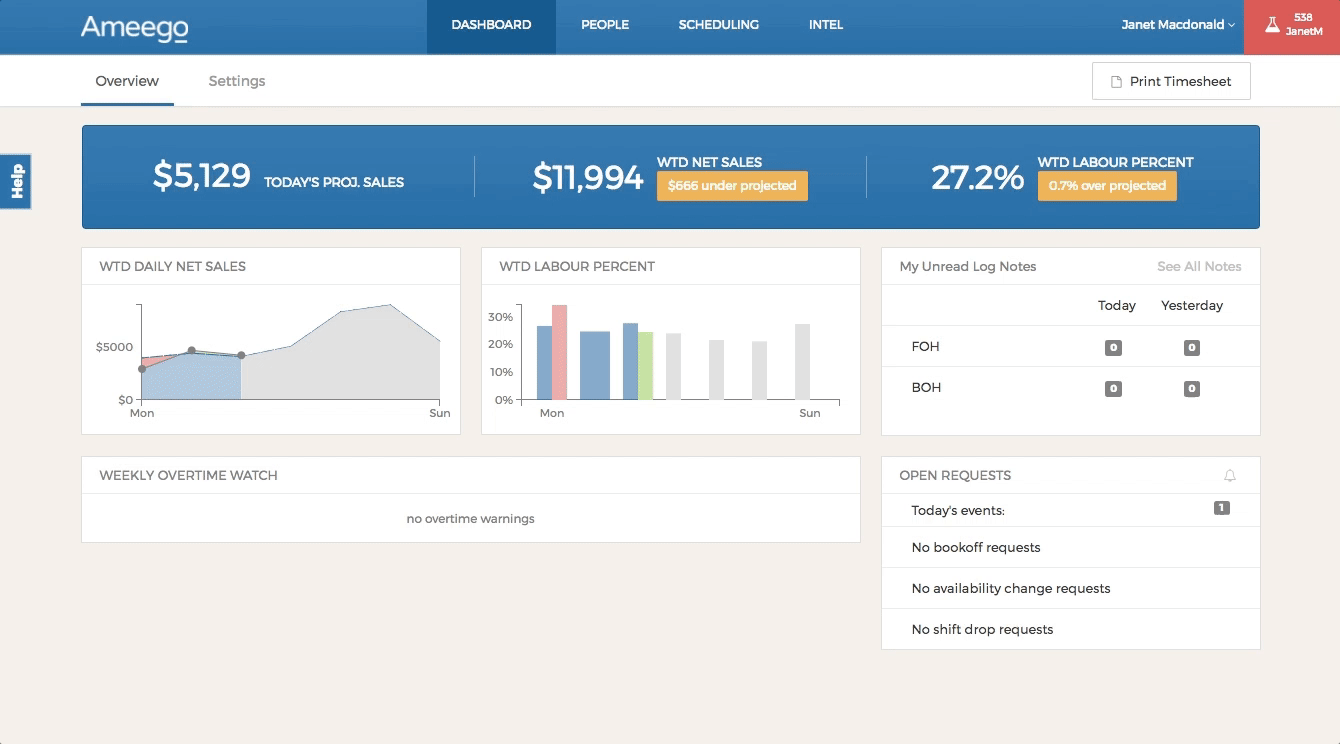 Edit a department:

Let's start by editing each department. Put your cursor over the department you would like to edit and click the setting wheel on the right. Next, click edit department. Now you can update things like the color of this department's shifts on the schedule and add a default department wage if needed.

Auto approve bookoff requests: If you would like Ameego to approve any number of employee bookoff requests on a day you can set this here. If you would like a manager to approve all bookoffs leave the number in this section at 0.
Bookoff request limits:

Here you can enter the maximum number of requests you would like to receive each day from employees in the department. Remember, if you haven't set auto approved bookoffs your managers will still need to approve these requests before they are confirmed and the schedule is updated .
Badges: Badges help Ameego to understand your employees abilities (example: Server Close, Bar Open, Grill, Fryer, etc.). You can set as many or as few badges as you would like. We have added a few of the most common ones for you in a few departments. You can add or delete badges by clicking the 'People' tab at the top of your screen. Next, put your cursor over the department in which you would like to add the badge. You will see a settings wheel, click this then 'Add Badge'.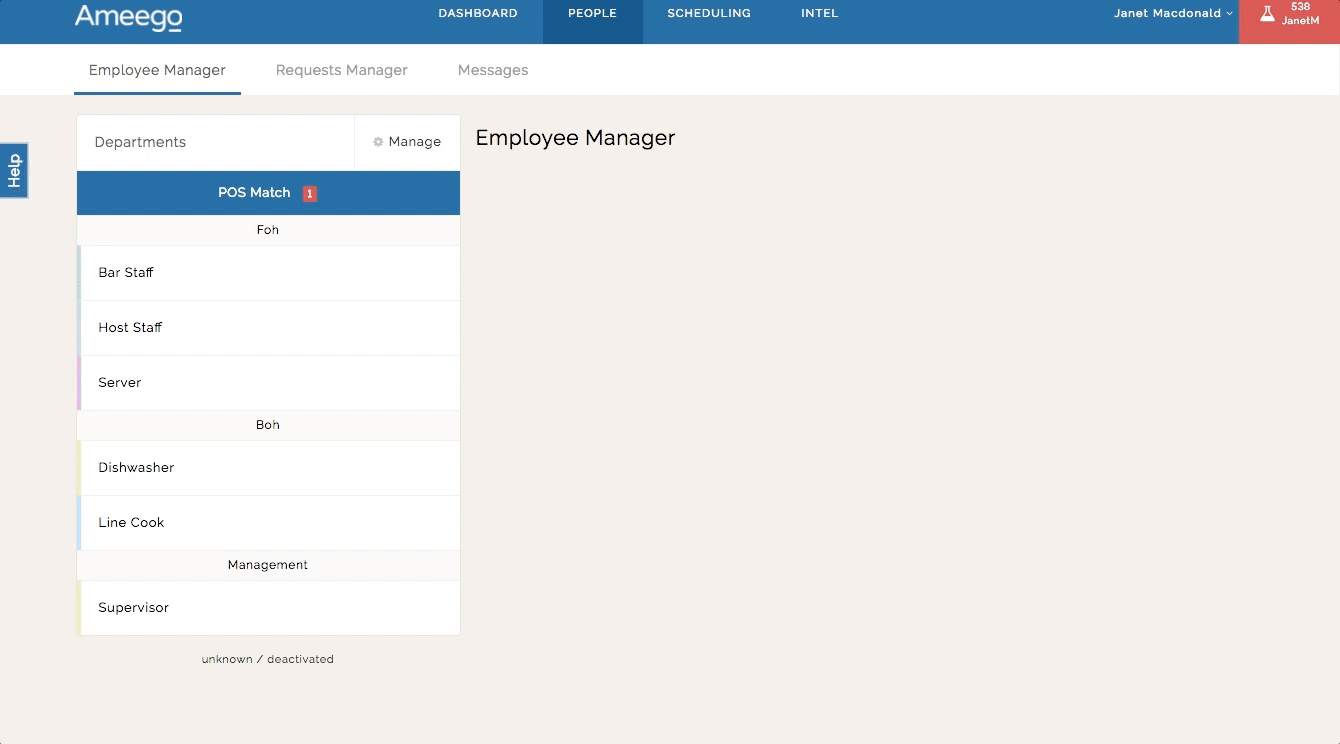 Preferred employee badges: This is how you can preset a shift for an employee (example: Sally works Bar Open Monday through Friday). Click a badge then choose the day and the employee you would like set. Ameego will ensure this employee is given the shift with this badge on this day over any others.
*Note* Be sure this employee is given this badge in their profile as well (see below).
Next, take a few minutes and edit all of your Department info as above
Employee profiles, deactivation and organization:

Click your first department and see all the employees who reside here. Choose an employee and click the downward facing arrow on the right to view their profile. You can verify and edit things here like wages, departments, badges, and availabilities. Next, add any departments or badges that should be associated with this employee (example: Closing server, Opening bartender, etc.). You can click 'Deactivate' to move this employee to the deactivated employee column; they will no longer exist on your schedule. Click 'Edit Profile' to edit things like employee contact information, change their department, or permission level.
*Note* The only difference between supervisor and manager level access is supervisors cannot see wages. Also, employees will enter their own contact information the first time they login to Ameego. 
Employee availabilities:

There are two ways to enter an employee's availability into Ameego.

 Employees can either submit their own availability the first time they login to Ameego and a manager can approve it, or you can enter it into their profile for them.

Availabilities:

To approve availabilities click the 'Dashboard' tab. At the bottom right of your screen you will see an "Open Requests" box. If any availability requests are pending, you will see an 'Availability change requests' button. You will be able to see all the pertinent information you need to approve or deny this request when you click on that button.
*NOTE* The availability requests screen can also be accessed under the People tab > Requests Manager.

Okay, you're doing great! Time to take a break before we look at base floorplans. Coffee anyone!?