When you first log in through myameego.com you will be taken to the Ameego manager dashboard. The are four tabs on the top of your home screen will take you to a different section of your schedule: creation, maintenance, execution, and tracking. At any point, click the Ameego logo in the top left corner of the screen to get back to the manager dashboard.
Navigation: Overview
Goal: Better your understanding on how to navigate Ameego Manager and Ameego Anywhere.
Manager dashboard:

Click the 'Dashboard' tab to access it. The manager dashboard was designed to get your managers in and out in 60 seconds before their shift. In that minute they'll be able to see things like their projected sales for the day, how they are doing sales and labour wise for the week, who's going to be in overtime soon, staff requests, log notes, etc. Be sure to play around on this screen and get familiar with it as the information here will give your team key information about your restaurant daily.
*NOTE* Best practice is to have your managers login to their Ameego dashboard before their daily shift. The information there will help them make better business decisions for the restaurant and increase consistency.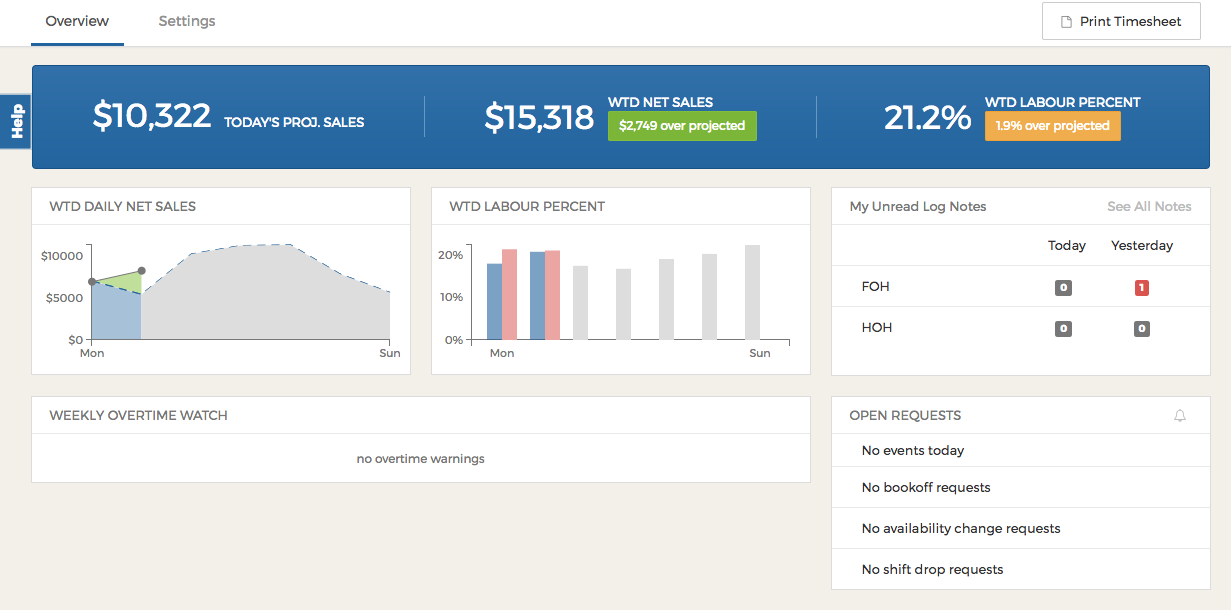 Logbooks: Click the 'Intel' tab, and then select 'Logbooks' - Ameego has built in logbooks to make it easier for your managers to communicate to each other. We have set you up with two logbooks to start, FOH and HOH. Your managers can click on one and write a summary of their shift under the appropriate header. If you would like to edit your logbook headers click 'Manage' under the logbooks tab.
*NOTE* Best practice for logbooks would be to login to Ameego and enter your notes  after each shift. Each note is time stamped and you can also see who is reading your entries.
Ameego Anyware

: Click your name in the top right corner of the screen to move over to the staff side of Ameego (Ameego Anyware) - Here is where your staff can see their upcoming schedules, use the shift swap, submit an availability change, request time off, and contact other staff through Ameego messenger (via text and email).

Help tab:

Click the 'Help' tab on the left hand side of your screen and search for answers or submit a support ticket to Ameego.
 Next up, your Global Settings!